Digital Signage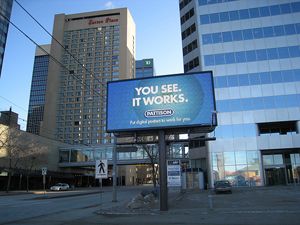 Digital signage is ushering in the newest wave of fresh sign alternatives.
With a large, vivid digital screen connected to a computerized control device, digital signage will upgrade you beyond static images to video, sound and multimedia. Most digital signage is quick and easy to update, allowing you to convey unlimited messages through one signage investment.
One of the most dynamic signage options, you have to see it for yourself. Give us a call and let us show you the possibilities.